If you're looking to save time, we'll cut right to the chase. Our pick for the best stroller for 3 year olds is the Baby Trend Expedition Jogger Stroller. Our pick for the best stroller for 4 year olds is the Pockit Lightweight Stroller and our pick for the best stroller for 5 year olds is the Graco Breaze Click Connect Stroller. 
It's true, sometimes big kids need a break from walking and want to ride in a stroller. I understand that some parents hesitate because they worry that their child is too big for a stroller.
I also understand that there are certain special circumstances where your 4 or 5-year-old does require a stroller and there is nothing wrong with that despite what other parents may say.
As a happy and sometimes frazzled mom to three beautiful bundles of endless energy, I have searched high and low for the best stroller for my bigger kids, as much for their comfort as for my sanity!
Here are the 3, 4 and 5 year old strollers I'll be reviewing:
I'll share what I found in my review of the best strollers for 3 year olds, 4 year olds and 4 year olds. If you're looking for a stroller with a high weight limit, I've got you covered!
Keep in mind that I picked these strollers based on maximum weight limits, so feel free to mix and match any of the strollers with any age child if it's a better fit for you and your child.
The Big Kid Stroller Controversy
I've been there. It can seem like moms – especially new moms – can never catch a break. With a new little one, you are basically learning through trial and error. One important thing to keep in mind is to understand that there will always be people who criticize. As much as that can sting, you need to also remember that they generally do not know you or your situation.
I'm sure you've heard them all – strollers for school-age children encourage inactivity and lead to obesity. Or, parents who push their 4-year-old children in strollers are coddling or spoiling them. While such parents do exist, there are a number of factors in which using a stroller for big kids is actually necessary and beneficial to both you and your child or children.
Benefits of a Big Kid Stroller
There are many benefits of having a stroller for big kids. They might be big, but let me tell you, once they get tired and ask you to hold them, after about 10-20 minutes of walking your back, arms and entire body will start feeling it. That's when a big kid stroller comes in handy.
I remember taking a trip to Italy and one day we couldn't find where we parked our car. My son got tired, we didn't have a stroller and I ended up carrying him for close to an hour. It almost killed me! I would have done anything to have a stroller right about then.
You may have a child with an energetic personality who will run off at every chance. Some outings will take a lot more energy and you might be on your feet for a lot longer than usual. For instance, a trip to Disney World or any other amusement park can be exhausting for adults let alone toddlers with little legs that tire quickly. Additional advantages of using a big kid stroller are:
You always know where your child is.
It can prevent child abductions.
You can hang your bags on the handles.
If they are tired, you can keep shopping while they nap.
Furthermore, some kids get fatigued more quickly than others and it's much easier to push them in a stroller than to carry them long distances. Children also grow at different rates and may be taller than average. A 3-year-old child in the 90th percentile for height may not be able to walk long distances nor will he or she fit in most traditional strollers.
Children may also have medical conditions which affect mobility or stamina and therefore require an adaptive stroller or use a regular stroller as a temporary alternative. Also, if your child is recovering from surgery, he or she will require a stroller.
If you're curious how the ride is for your child, a company made adult-size versions of their strollers. I feel like this is more of a gag, but it's entertaining at least:
What Types of Large Strollers Are Available?
So you've decided that you need a big kid stroller, let's take a look at what kinds of strollers are available. For each different need, there are a few types of strollers on the market for larger children. Take into consideration you and your child's needs and where you will be using the stroller.
Jogging Strollers
A jogging stroller is a 3-wheeled stroller for parents to push their children in while jogging. These large strollers can easily hold a 4 or 5-year-old child, possibly up to 7 years old depending on the child's size.
Large Umbrella Strollers
Compared to other big kid strollers, this is the most affordable choice for large toddlers and children 3 to 4 years old. However, this stroller has a very limited age and weight capacity and will not likely accommodate a child over 5 years of age or over 50 lbs.
Sit & Stand Strollers
A sit & stand stroller can also be used as a double stroller for families with multiple young children since it has 2 seats. With a sit & stand stroller, a child can sit or stand on the rear seat of the stroller if he or she becomes tired.
Adaptive Strollers
These type of strollers look very similar to standard strollers but with special modifications for children with medical conditions and/or specific needs. These specifications are usually determined at by a doctor or pediatrician.
Strollers also come as a travel system with a car seat attachment.
Things to Consider When Shopping for a Big Kid Stroller
Hopefully, you are now a little more comfortable with determining if your munchkin still occasionally needs a stroller and if they do, that's perfectly okay. If the answer is yes, then there are some important factors to keep in mind once you begin your quest for the best large stroller.
Where Do You Plan to Use It?
If you plan to travel overseas with the stroller, a mid-range large stroller may be too bulky and large to push through narrow city streets especially in European cities. However, using a smaller collapsible stroller may not allow for much storage of bags and other necessities.
How Long Will You Be Using It?
If you plan to use the stroller for a long period of time, a smart move is to consider a stroller with a high weight limit to increase its usefulness. This will initially cost you more money, but you will end up saving more in the long run as your child grows. A good idea is to think about buying a stroller you can add a car seat or stand & ride bumper onto.
How Easy Is It to Use?
After narrowing down the final few stroller choices, I recommend taking a test drive of the stroller in person and observe the maneuverability. How does the steering feel? Can you use one hand? Can it handle a tight turn? You will be glad you checked for any potential issues before making the purchase. This isn't always possible for all models, but it can make all the difference and save you from buying a stroller you don't like.
How Heavy or Light Is It?
If you travel a lot, the lighter, the better. However, keep in mind that different manufacturers tend to have differing opinions as to what constitutes as lightweight. Carefully check the actual weight and factor in the weight of your child and your diaper bag as well for those times when you'll have to carry all three up a flight of stairs.
What Kind of Safety Features Does it Offer?
The best harness to look for is a 5-point harness which most strollers have these days. Make sure to test the securing mechanisms such as the snaps and buckles to ensure they're easy to secure but not too easy to loosen.
Additional things to check for are the brakes and how they work and whether the stroller has an adequate canopy to shield your child from the sun and rain.
A Review of the Best Strollers for 3, 4 and 5 Year Olds
A mom's life is full of love, joy, laughter … and chaos. You often don't have time to even choose a matching pair of clean socks let alone the right stroller for your toddler. You can sit back with a nice cup of coffee, tea, or something a little stronger (responsibly and preferably after the kids are in bed!) because I have done the homework for you!
The Best Strollers for 3-Year-Olds
Allow me to introduce you to the best-recommended strollers for 3 yr olds as well as the pros and cons of each stroller.
Whether or not you are a jogger, this stroller includes child and parent trays as well as two cup holders. It is a dream for traveling since it easily folds up for compact storage.
Pros:
Light and comfortable to push while walking or jogging
Large bicycle tires that work smoothly overall surface types
Front swivel wheel for easy maneuverability and locks for jogging
Reclining padded seat
5-point harness and tether
Large canopy with a peek-a-boo window and storage basket
6-month warranty
Cons:
There have been reports that the front wheel does not work properly.
This is an ideal and versatile stroller for traveling or any active lifestyle. Make sure to keep updates on your warranty and contact the manufacturer if you notice any possible wheel problems. Even so, many parents have deemed this stroller as a must-have for outdoor activities and vacations.
As one of the more affordable strollers for 3 yr olds, the Chicco Liteway Stroller is very sturdy and comfortable and reclines back for even more comfort if the child wants to sleep. It has an aluminum frame with assembled dimensions at 35″ x 19″ and folded dimensions at 46″ x 10″ x 11.75″.
Pros:
4-position backrest
Compact fold with an automatic storage latch and carry handle
Adjustable, removable canopy with a peek-a-boo window
Easy to fold and unfold
Cons:
The maximum weight capacity is 40 lbs. If your child is larger, they will unfortunately not fit into this stroller.
Not as light as the manufacturer claims it to be.
While there are a few drawbacks with this stroller, it is very durable and you should get a good many years out it especially if you have more than one child in the 20 to 40 lb. range.
The Best Strollers for 4-Year-Olds
Here are the best strollers I could find for 4 yr olds. I looked at dozens of strollers, read reviews and looked for any important positive or negative aspects to help you choose.
According to the 2014 Guinness Book of World Records, the Pocket Lightweight Stroller is the World's Smallest Compact Stroller which folds down to 11.8″ x 7″ x 13.8″ and weighs a mere 9.5 lbs. Don't let its small size and dainty weight deter you, though. It's a powerful little workhorse as you will see in the pros section below.
Pros:
While small in size, it's incredibly strong. Its high-quality durable frame can accommodate a child ranging from 6 months up to 55 lbs. It can also hold an additional 11 lbs. of gear in its sturdy storage basket.
Innovative 2-step folding design
If you love to travel whether locally or overseas, this is the ideal stroller for you since it stores away easily in cars or overhead bins.
The secure harness system is adjustable and includes protective pads which can be placed in different positions for optimal comfort. Additionally, as your child grows, these pads can be repositioned.
You can effortlessly push and steer this stroller with one hand.
Sliding back panel which can adjust to different torso lengths
Lockable front swivel wheels, rear wheel brake, and padded handlebars
Cons:
The seat is not reclinable for sleeping.
Some people were not impressed with the canopy coverage.
Parents taller than 5'8″ cannot comfortably push the stroller.
There were some reports that the older model was better.
There are a few challenges to some aspects of this stroller; however, the record-setting ultra-compact size and storage is hard to beat. This is a superior quality stroller which should last you for years to come.
With its reasonable price, this stroller sports a sturdy 13-lb. aluminum frame and a large seat area. You get a lot more goodies along for the ride as follows:
Pros:
New and improved easy compact fold with a carry strap and auto lock
4-position recline with a 5-point safety harness
Accommodates a child up to 50 lbs. and 43″ height.
Anti-shock front wheels and lockable rear wheels
Adjustable and removable canopy with flip-out sun visor
The extra-large storage basket can hold up to 10 lbs.
Cons:
Doesn't stand when folded
Not ideal for taller children since the seat back isn't very tall and the footrest is too close to the seat.
Cup holder too small
Despite a few shortcomings, many consumers have sung the praises of this stroller's canopy size which adequately protects little ones from the overhead sun or rain. For its reasonable price, you and your child get some very convenient features.
The Best Strollers for 5-Year-Olds
They just won't stop growing, will they? The bright side to this is that by now, your sweetie pie is a little more independent and wants to be grown up but may still need a stroller for those long excursions at the zoo or amusement parks. Here are some great choices for those cherished outings.
What's great about this stroller is that if you already own a Graco Click Connect car seat, with one step you can convert it into a travel system with this stroller. The features don't end there!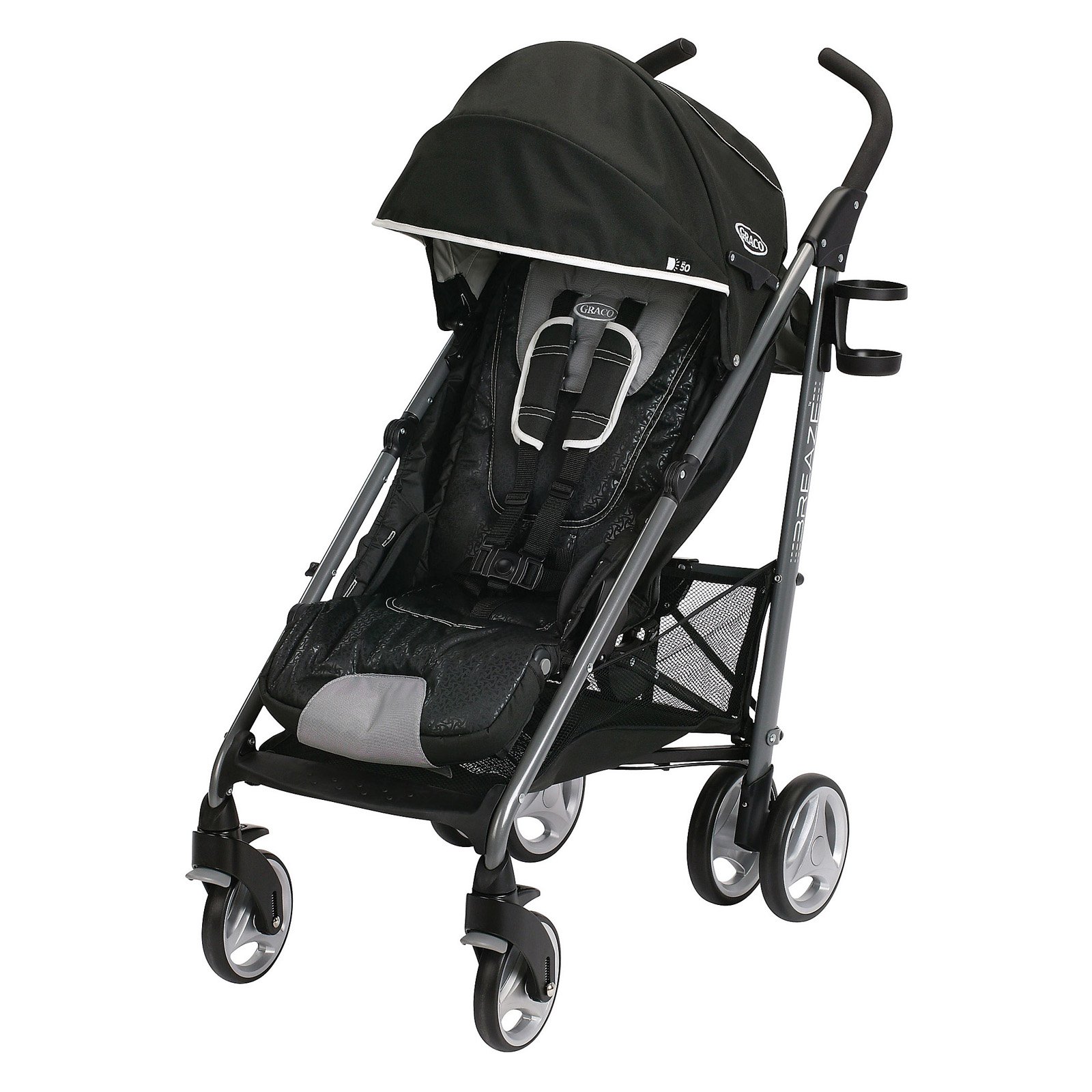 Pros:
Ultra-easy one-hand fold for convenient carrying
Accepts all Graco click connect and TRUESHIELD side-impact protection car seats
The multi-position reclining seat also lies flat to accommodate children from birth to 50 lbs.
Cons:
Not convenient for parents taller than 5'8″ to push
Graco has been a reliable brand for decades and it continues to offer you and your child superior convenience and protection. Many of their products interactively work together as you can see. If you're looking for a great travel system, Graco is one of the best.
This is the mother (pun intended!) of all strollers for 5 yr olds. While on the costly side, the BOB Revolution Flex 2.0 Jogging Stroller is packed full of features and rides smoothly on most terrains.
Pros:
Fits children from birth to 75 lbs.; 0-8 weeks with the use of an infant car seat adapter and compatible car seat accommodates child up to 44″ in height.
The air-filled tires allow for smooth and fast stability.
Locking swivel front wheel
Mountain-bike-style suspension makes this stroller ideal for active parents on the go.
No-rethread 5-point harness system
Near-flat recliner
9-position adjustable handlebar with a wrist strap for additional security
Extra-large UPF 50+ canopy
Cargo basket and integrated pockets for storage
Travel system ready with BOB or Britax Infant Car Seats with BOB Infant Car Seat Adapter
Cons:
Reported issues with rusting or corrosion of the frame
Car seat adapter not included – adding accessories can be very costly.
Reported issues with tires going flat for no apparent reason
This stroller is great for just about any terrain you can think of and also securely holds your child with the best safety gear. However, you'll want to take care when using it in inclement weather due to rust issues. If possible, bring a small air pump with you just in case a tire goes flat.
Best Big Kid Stroller Overall
Each parent and child's needs are different, so what I consider to be the best product may not necessarily be a perfect fit for you and your family. That said, after weighing the pros and cons as well as the cost of each stroller, I have determined what I believe is the most ideal big kid stroller.
Baby Trend Expedition Jogger Stroller, Phantom, 50 lbs.
As an active mom who often walks and jogs, this stroller is the most ideal. It has all of the safety features such as the 5-point harness as well as the comfort of a reclining position. The reasonable price also appeals to me as most of us have a strict budget to adhere to. This versatile stroller will be very handy for many years to come since it accommodates a weight range.
Remember – Don't Let Anyone Judge You
As a mom, you get to hear a lot of – mostly unsolicited – advice and it can be frustrating and confusing. While it is good to learn things you might otherwise not have known, it's also important to discern what works best for you and your child. Every mother is subject to this and you are not alone. Carefully determine what is most important to you and your family, and if your school-age child needs a stroller, use one. You deserve to be a happy mom with a happy child. Happy strolling!