When it comes to baby gear, it's always safety first. That's why baby play fences and gates are a must when you have a little one. They keep your baby in a safe area where they can't run down the stairs or get into other dangerous trouble. There are some baby gates that double up as play yards and vice versa. Some products are strictly used as gates or just play fences. Once you decide which one you're looking for, it's time to get shopping!
In A Hurry? Here Are Our Top Picks:
What to Look for in a Baby Play Fence/Yard Gate
Every parent is going to have their personal list of "must-haves" for the best baby yard gate or play fence. It comes down to what you need the product to do for you. Here are some things to consider.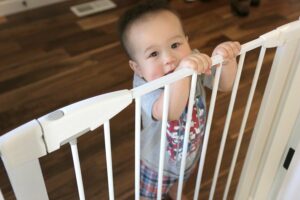 Versatility
Many baby play gates on the market can be made into a variety of play areas as well as mount to walls as a strict gate to make a room barrier. These are extremely popular for their "two-in-one" factor. Parents don't have to buy a gate and then a play fence. They can use the same product for both purposes.
Portability
Is your baby fence something that's going to go to Grandma's house or on vacation? If so, you'll want to choose one that's on the lighter side to make it easier to bring around with you.
Safety Lock
Any of the best baby play fences or best baby yard gates will have a safety lock on it. There are many differences in the types of locks and how they work. You want to find the one that's as childproof as possible. While you may think your child would never be able to figure out how to open it, you'd be surprised!
Spacious
If your baby feels confined in the play area you've created, they're not going to want to stay there for long. They'll try to figure out how to get out of it and start screaming for you when they can't. Look for a play fence with enough panels to create a large enough space for your baby. Also, look for one that comes with the option to buy more panels as your baby gets bigger.
Durable Material
Many play fences and gates are made from metal or durable plastic. Whichever you choose, be sure the material is safe and sturdy. You don't want your baby to barrel through it or for any of the walls to come down around him. They should lock in place securely. If you're mounting the gate to the wall, be sure that all connections are securely fastened.
Best Baby Play Fences and Gates
As you can see, there's a lot to consider when shopping for a baby play fence or gate. That's why we've compiled a list of the best baby play fences that suit many parents' needs. Take a look to find the best one for your home.
Best Baby Play Fences and Gates
When it comes to buying baby gear, you want to look for universal items. You don't want to buy three of the same item just to fit different circumstances or growth stages. We love this baby gate because it can convert from a super wide gate to a play yard, quickly and with no tools required. Also, it fits up to 192 inches wide. This is important because that means you don't have to buy another gate if you're going to move or use it in someone else's house. This gate can pretty much fit anywhere. It's also 28 inches tall, so you should be able to keep this one for quite a while unless your baby is super-tall or has a crazy growth spurt. This gate is moderately priced when compared to other baby gates. For all of these reasons, this gate is tops when it comes to best baby play fences.
Pros
Made of durable steel
Adjustable to fit many different doorways and openings
Moderately priced
Converts to spacious 8-panel play yard
Safety locking feature on walk-thru door
Cons
Can be on the heavy side for some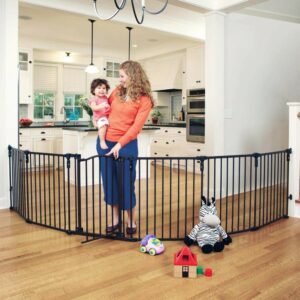 This is another baby gate that we love because of its versatility. This one can be used up to 144" wide and fits many different areas. The walk-thru gate has a childproof double-locking system that provides parents peace of mind that their child won't get through. But, just be mindful to always keep it locked! This gate measures 30" tall which means it will be around for the long haul.
If you have what's considered a modern home, this baby gate accommodates high baseboards and can be mounted to angled walls. There are also many options when it comes to how you want to configure it as a baby gate or playpen. This is good because it can work in a variety of different spaces. The only downside is that it is a bit more pricey than other baby gates or fences.
Pros
Works well on all floor surfaces
Configurable panels that lock into place
Safe for babies up to 24 months
Cons
More expensive than other models
When it comes to best baby gates, this one goes to the head of the class for its versatility. Not only can it be used up to 197 inches wide, but each panel can pivot to well over 270 degrees. This lets you turn it into any shape you want when making a play yard out of it. Octagon, square, rectangle…go crazy!
With a sturdy reinforced steel frame, this baby gate is made to last. The walk-thru gate has a double-locking system that's childproof. The free-floating mounting brackets allow you to attach it to the wall at an angle.
Fold it up for easy storage when you don't need it. While this model may cost a few dollars more than other baby gates, it has a lot going for it.
Pros
Extremely versatile
Can be used in many configurations and sizes
Extremely wide
Double-locking system
Cons
May be heavy to transport
Costs a little more than other models
Skip Hop always makes some cute products, and this playpen/baby fence is no exception. While it's not as heavy-duty as some of the competition, it's a solid choice if you're looking for a baby play yard that can double-up as a small fence. What makes this one a top pick is that it has fun features like a  rattle bead spinner, shooting star clicking mover, cloud teether, and reflective sun mirror. There are so many bells and whistles that you're going to want to play too! You can even take off the activities and use them for seated-play.
This model is a bit on the pricey side, but it does come with many fun features. If you're leaning more towards the play yard/ play fence variety, this may be a solid choice for you.
Pros
Fun design and cute play features
Can be used as a playpen, room divider, or barrier
Hinged door panel locks for safety
Cons
On the expensive side
Not as wide as other models
If you're shopping for a baby play fence that's simple, but gets the job done effectively, you'll want to give this one some attention. This gives your baby a safe place to play and move around when you need them to stay in one area. Let's face it. Babies are not going to stay in one area if you just let them play on the floor.
This gives them 18 square feet of playing space, which is plenty of room to crawl and jump around. If you're looking for a gate to put at the top of the stairs, this is not the pick for you. But, if you're looking for a play yard that is portable and can be placed in the middle of any room, this could be on your list. It's moderately priced, so you'll get a lot of use for your money.
Pros:
Lightweight
Quick and easy to assemble
Moderately priced
Can be used inside or outside
Works well on any floor surface indoors
Cons: 
Can not double-up as a baby gate that mounts to a wall
Tall, wide, and relatively inexpensive…that's why this one is on the list. You can section off a great baby play area with this baby gate. It's 31 inches tall and has 24-inch wide configurable panels, so you can use it in many spaces.
There aren't many bells and whistles here, but this gate gets the job done. With its safety locking feature, you can feel confident that your baby is safe behind the gate.
Pros
Inexpensive
Tall design
Wall-mounted for added security
Cons
Can only be used as a gate, not as a free-standing play area
Here's another baby play gate we love because of its versatility. Not only can you use this as a play yard, but it also comes with a wall-mounting kit so that you can use it as a room barrier. This play yard sets up quickly and can be taken down just as fast for easy storage and transport.
It's also a great pick if you need to bring something along to Grandma's house so that your baby doesn't play bowling with all the knickknacks! It's in the price range of many items like it, so you won't break the bank as you provide a safe place for your baby to play.
Pros:
Convenient to use, store, and move
Comes with mounting kit to make a room barrier
Inexpensive
Cons: 
May not be ideal if you are looking for a large play area (comes with 6 panels)
If you're just looking for one of the best baby play fences and don't need the wall-mounting option, this model by North States could do the trick. It's very similar to the one above. You can easily set this one up inside or outside to create a great little play area for your child.
It also comes with a strap, making it even more portable and easy to use. There is a convenient folding play mat (sold separately) that fits well inside the play yard to give your baby added comfort. At 26" tall, it is made for babies up to 24" tall.
Pros:
Lightweight
Portable
Reasonably Priced
Cons
No mounting kit for room barrier option
Spacious and safe, this 2-in-1 safety gate has a lot going for it. It opens to 192 inches wide and stands 26 inches tall. It can convert from a wide gate to a 6-panel play area. If you choose to use it as a gate, it's extremely adjustable to fit almost any opening. It has a safety locking feature as well as a wall-mounting option.
If you choose to use this as a play yard, it can be used indoors or outdoors. This gate is reasonably priced for the number of options it offers.
Pros:
Can be used as a 192-inch wide gate or 6-panel play area
Comes with wall-mounting option
Reasonable priced
Can be used indoors or outdoors
Durable
Cons:
Made of durable plastic, not metal
Some parents don't have the space or the need for a play fence that extends to 192 inches. If that sounds like you, then this one may be an option for you. This model by Regalo is extremely foldable and portable. With its 8 panels, it creates a fairly large area for your baby to play while not taking over the room.
It comes with a carrying case and arm strap for easy travel. If you take a lot of road trips and need a safe place for your baby to hang out, this could help. The play yard is made from a sturdy canvas material that also makes it easy to clean. Don't worry, it has a steel frame, making it sturdy for your strong baby.
Pros:
Extremely portable
Easy to clean
Good for indoor and outdoor use
Durable
Reasonable priced
Cons:
Can not be used as a gate
Here's another option to add to your list if you're looking for a simple baby gate. Summer makes this model that can be used up to 143 inches wide. Its mesh-look gives your baby gate a more stylish look than some of the other models.
It can also be made into a small play area with the panels and gate. We like this one as one of the best baby play fences for its more modern look. Some parents like this feature depending on their home style. It also falls within the same price range as many other baby gates and play fences.
Pros:
Modern look
Reasonably priced
Can be configured into a play area
Cons
Doesn't open as wide as others
This baby gate for Summer West End features a honey oak stained wood door design. This could be a fun aesthetic feature if you're looking for it to match other parts of your home. We like this one because it has an auto-close feature that gently closes the door behind you. At 27 inches, the gate has an extra-wide door. With two adjustable built-in door stoppers, you don't have to worry about the gate swinging open, putting your baby in harm's way.
This gate opens up to 60" wide, so if you're looking for an extra-wide gate, this may not make your list. It's also slightly more than some other models.
Pros:
Classy honey oak stained wood door design
Auto-close feature for safety
Adjustable built-in door stoppers
Cons:
Only opens to 60" wide
Slightly more expensive than other models
If you're just looking for a strict baby gate to create a room barrier in your home and don't want to spend a lot of money, this model may be on your list. This baby gate can extend to 42" wide and provides an easy way to keep your baby away from dangerous areas.
It includes door sockets that provide extra holding power for pressure mounting between wall spaces. It's also pretty durable, so you shouldn't have to worry about your baby trying to knock it over. The gate stands at 26" tall which should keep your baby safe as he grows. Of all the baby play fences and gates listed this one is the least expensive and the simplest model.
Pros:
Inexpensive
Baby gate that extends to 42" wide
Extra holding power for pressure mounting
Cons:
Can not be configured into a baby play fence
At 42" wide, may not be large enough for some intended areas
The Bottom Line on the Best Baby Fences and Gates
When it comes to baby fences and gates, you have to remember that you get what you pay for with many of these models. For us, the Regalo 192-inch Super Wide Adjustable Baby Gate is the clear winner because of all it has to offer. It's not only extremely wide at 192 inches, but it can also convert to an 8-panel play yard. It has a steel design which makes it durable and it's reasonably priced for its size and features.
Always check the safety features before buying a baby gate or play fence and look at the locks. If you have any thoughts that your baby may be able to unlock it, look for another one. When it comes to free-standing play gates and fences, be sure to choose one that is durable and won't topple over.
Remember, your baby's safety is priority number one. Choose a baby gate that will keep your baby safe and suit your needs. Happy shopping!