We're supported by moms. When you buy through links on our site, As an Amazon Associate, I may earn a commission.
If you're anything like me, you like it to be warm and toasty in your house. Sometimes though, your baby might not like it so much. Instead of trying to determine whether the room is too hot or too cold, we researched the perfect temperature for babies.
According to pediatricians, it's between 68 and 72 degrees. This makes 70 degrees Fahrenheit the ideal temperature for the baby's room. Here are a few tricks that you can use to keep the temperature perfect for them.
Thermometers To Keep Track Of Temperature
Most of the time, your house will have one thermostat that will keep track of the temperature and signal the furnace when it is time to kick on. Unfortunately, this doesn't tell you the temperature in your baby's room.
If it is upstairs or in the back of the house, it will most likely be a lot colder than what the temperature on the thermostat says. Instead of guessing, simply place a thermometer in your baby's room. Smart thermometers are designed to consistently track the temperature and humidity in a room.
Baby Monitors That Monitor Temperature
If you haven't picked up a baby monitor yet, consider one that will also keep track of the temperature. We have a video baby monitor that does plenty of cool things, like play music. It also will tell you the temperature in the room.
This one is the one that we have, and it's definitely worth the money.
Baby Monitor, 4.3" Video Baby Monitor with
2 Cameras
, Night Vision, Temperature Monitoring, 5 Lullabies, 2-Way Talk, VOX Mode, Feeding Time Alarm, Support up to 4 Cams, 1000ft Stable Transmission
【4.3 High Quality LCD Display & Infrared Night Vision】The newest Day and Night Auto-Switch Infrared Night Vision is here for you showing what's happened with your little angel on each second in the night. Knowing your baby safe & sound with VMAI 4.3'' high quality LCD video baby monitor. Offer you a clearer real-time video and audio with 2x digital zoom and 360 degrees for the unattended baby.

【Motion Detection & VOX Wake-up Mode (ECO Mode) 】Motion detection can alarm if baby is moving without your attention. The screen will auto wake up and alarm will tell you as soon as baby is crying out (Only work in VOX mode). You can adjust the sensitive levels of both functions or switch them off if the frequently alarming bother your life.

【Two Way Talk & Temperature Monitoring】Equipped with the advanced and high-sensitivity microphone and speaker for clear two-way talk back audio conversations, allowing you to comfort promptly or play built-in lullabies to the baby when the baby is crying. Temperature Monitoring always making sure the most suitable room temperature is under control all day long with the alarm.
Prices pulled from Amazon Product Advertising API on:
Product prices and availability are accurate as of the date/time indicated and are subject to change. Any price and availability information displayed on [relevant Amazon Site(s), as applicable] at the time of purchase will apply to the purchase of this product.
Adjust The Temperature As Needed
The goal is to keep the temperature at 70 degrees, so you will need to adjust it as necessary. Here are a few tips that you can use to keep your baby both safe and comfortable.
Fans Keep It Cool
If the temperature is too hot, try investing in a small fan to keep the cool air circulating. Do not point the fan directly at the baby, especially on their face. Instead, simply turn on the ceiling fan or get a rotating fan to sit across the room.
The white noise might also help your little one sleep better.
Avoid Heaters And Air Conditioners
While both of these will help change the temperature, they will change it to the extremes, making the room too hot or too cold for the baby. Avoid both of these options to guarantee that your little one will not wake up in the middle of the night. Space heaters are also known for being dangerous.
Use Your Own Judgement
Most parents share a room with their baby until they are at least six months old. If you're too hot or too cold, so is your baby. When you feel uncomfortable, check the temperature on your baby monitor or thermometer to make sure that the room is at an appropriate temperature.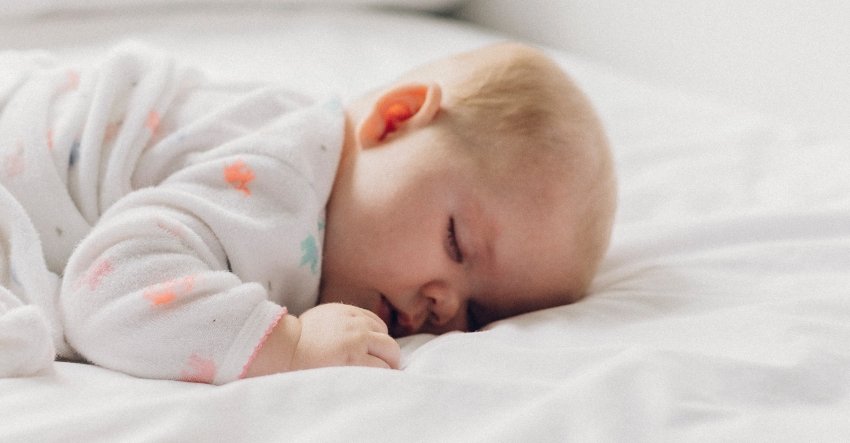 How To Dress Baby For Sleep In 70 Degree Room?
Now that you know how to keep the appropriate room temperature for your baby, it leads to the question: how to dress baby for sleep in 70 degree room? This is a question that most parents ask themselves at least once.
Most first-time moms over layer their babies, leading to them being too hot. Some dress them in a thin layer of clothing that leads to them being cold and fussy. Follow these tips for dressing your baby to keep them comfortable.
Avoid Fabrics Known For Being Warm
When my grandson was wearing his footed pajamas, they were adorable, but they were also made of a fleece material that helped keep heat inside. This just made him hotter. Learn what materials to dress your baby in.
Fleece Will Be Too Hot
Fleece is designed for colder weather. It is thicker and helps keep body heat inside of the clothing. Fleece pajamas and outfits are perfect for chilly winter nights, but not so much for a room that is 70 degrees. Check the tag for outfits to avoid this material.
Wool Is For Winter
Wool is a fabric that is designed for winter. It helps retain heat and shuts out the cold air. During summer or in a 70 degree room, this will be much too hot for a baby. As with fleece, make sure to check the tag to determine if this fabric will be too hot.
Cotton Is Universal
Cotton can be designed for both warm and cold weather. Cold weather clothing will be thicker with multiple layers of fabric while clothing designed for warm weather will be thinner. If you want to see if cotton clothing will be cool enough for a 70 degree room, simply run the fabric through your fingers to determine how thick it is.
How To Dress Baby For Sleep In 70 Degree Room: Consider The Type Of Clothing
The type of clothing your baby wears is another thing to consider. If they are wearing a onesie that is made of thin cotton, it might be more appropriate where a thick cotton sleeper will be too hot.
Here are a few general guidelines that you can follow when dressing your baby to make sure that they are wearing something that keeps them warm, but not too warm.
A Bodysuit Or Onesie
When dressing your baby for sleep, put them in a onesie first. This is the basic layer that every baby wears. If that is not warm enough, which most likely not in a 70-degree room, add more clothing.
When it comes to additional clothing, you've got quite a few options that you can work with.
Simple Joys by Carter's Baby Girls' 6-Pack
Six short-sleeve bodysuits in baby-soft cotton featuring patterns, appliques, and stripes

Four bodysuits feature expandable necklines with scalloped picot trim

Two bodysuits feature back-snap necklines with scalloped picot trim

Nickel-free snaps on reinforced panels

Trusted Carter's quality, everyday low prices, and hassle-free packaging
Prices pulled from Amazon Product Advertising API on:
Product prices and availability are accurate as of the date/time indicated and are subject to change. Any price and availability information displayed on [relevant Amazon Site(s), as applicable] at the time of purchase will apply to the purchase of this product.
Additional Clothing
Usually, we dress the baby in a onesie and then layer in additional clothing if it's cold. For example, they can wear a bodysuit with a sleep sack over top of it. The ones that have built-in straps for swaddling are perfect!
Another great option is a onesie with a pair of footed pajamas.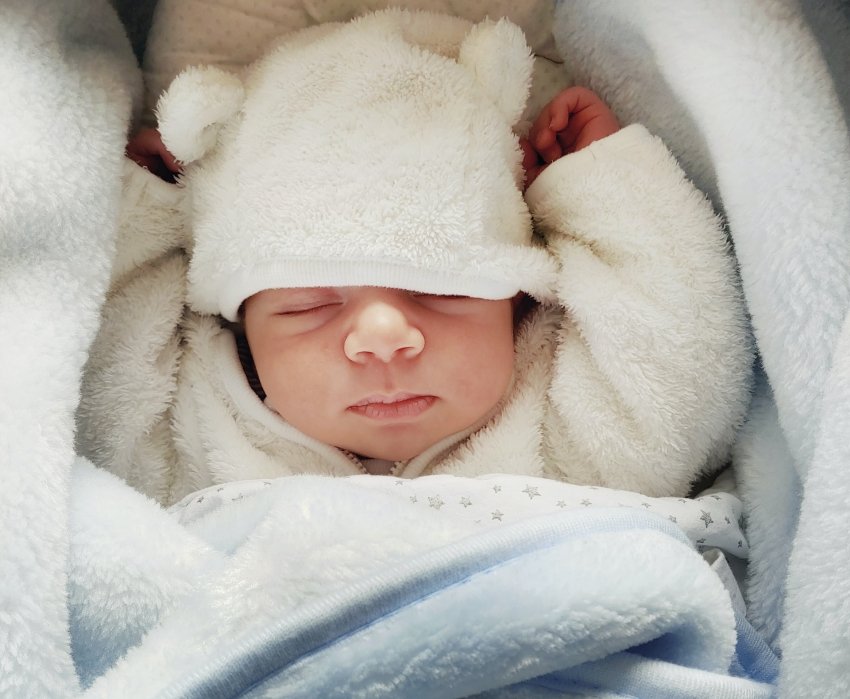 Blankets
It's usually a parent's first instinct to cover up their baby with a blanket if they are cold. A thin receiving blanket can be used on chilly summer nights, but it's important to remember that heavy, fluffy blankets can be a suffocation hazard. Try to avoid using these if your baby is cold.
Instead, opt for additional clothing, or a thin blanket that is tucked under the mattress so your little one can't pull it over their face.