We hear a lot about the special bond between a mother and daughter, but there is also a unique bond that is shared between a mother and her son. Nothing is quite like the way that a mother and son bond throughout life. What better way to share that than to get a matching tattoo! I've almost got my son talked into getting one with me when he gets older. These are some of the best ideas that I've found so far.
Mama Bear And Her Cub
We all have a little bit of mama bear in us, especially when it comes to our cubs! This tattoo represents that perfectly. If you and your son love the outdoors, this is the tattoo for you.
A Piece Of You
For when you want to always have a piece of you together. Another great way to look at this tattoo is that the two of you help complete each other.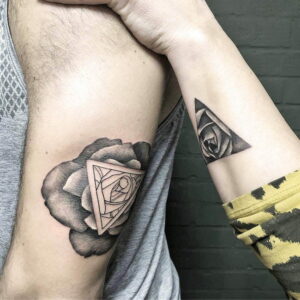 Matching Celtic Knots
These knots are matching, but each tattoo is unique in its own special way. This is great for a mother and son to get.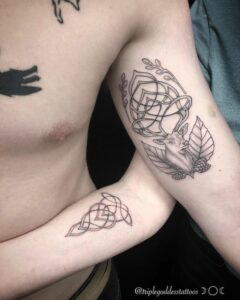 Celebrate The Birth Of The Baby
Sometimes, you just can't convince your son to get a matching tattoo with you. However, you can still get an adorable mother and son tattoo like this one to appreciate him being born.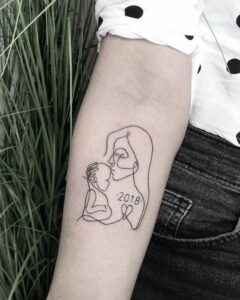 For The Space Lovers
If you love space, you are going to love this tattoo. You can use it to express your love of space or Buzz Lightyear.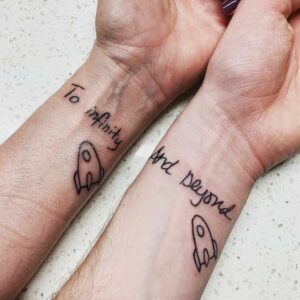 Matching Wolf Tattoos
Cute tattoos that have sentimental value are amazing, but you can pick something that two of you like too. Check out these awesome wolf tattoos and talk to your son about this idea.
Sweet, Sentimental Mother And Son Tattoos
I adore the quote on this tattoo. It reads "and she loved a little boy very, very much- even more than she loved herself."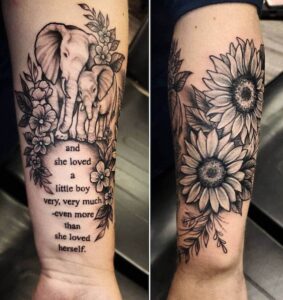 Matching Avenger Tattoos
If you and your son love the Avengers, this tattoo is worth considering. Not only is it something that you both love, but it says "whatever it takes." We all know that we as moms will do whatever it takes for our sons.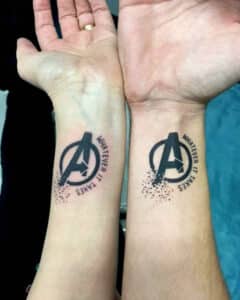 Elephant Family Tattoos
Elephant family tattoos are adorable, and you can keep adding to them! If you want matching mom and son tattoos, consider getting matching tattoos with the whole family.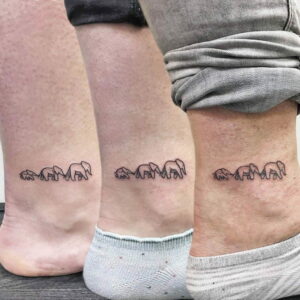 Coordinating Mother Son Tattoos
People interpret this tattoo in different ways. Some view it as a mother and son being polar opposites, just like day and night. Others view it as a matching tattoo because the two of you look alike.
Fingerprint Tattoo
Combien both of your fingerprints to make a heart. Then, you can take or leave a caption underneath for a unique tattoo.
Rock On
When the two of you simply look at these tattoos and relate, you know that it's the perfect mom and son tattoo for you.
Mother And Son Tattoo
Mother and son tattoos don't always have to be a matching tattoo between yourself and your son. You can get a mother and child tattoo with your son's name underneath of it to express your love for him.
Matching Molecule Tattoos
If you love the trend of molecule tattoos, check out some cool molecules that the two of you can get together.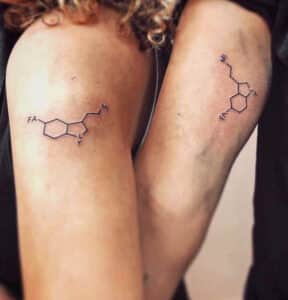 Day And Night Tattoos
If you're a day person but your son is up all night, this is the ideal mother/son tattoo for you!
Handwritten I Love You Tattoos
Both of you need to write I love you on a piece of paper. Then, get his handwriting on your wrist and he gets yours on his. It's an adorable tattoo that both of you will cherish for years.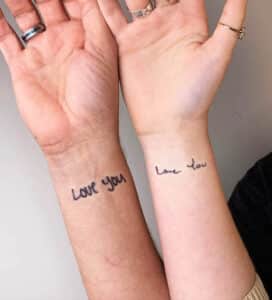 Storm Trooper Tattoos
If your son is anything like mine, he loves Star Wars. This tattoo doesn't work for us because I'm not a huge fan, but if you are, it's worth considering.
Yin Yang Signs
I think of this as more of a couple tattoo, but it can definitely work as a mom and son tattoo too!
Unique Matching Tattoos
Pick something that you both love, and turn it into a tattoo to create a unique tattoo that you both will love. If you're both a fan of aliens and conspiracy theories, check out this cool idea.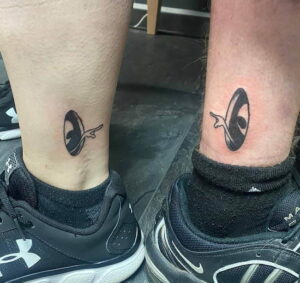 Simple Day And Night Tattoo
If it's your first tattoo, most tattoo artists recommend something small. This tattoo is the perfect size for a first tattoo, and you can get coordinating tattoos.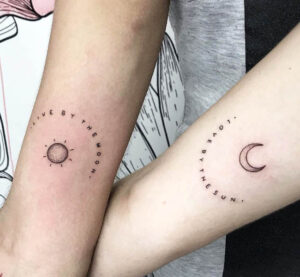 Matching Patriotic Tattoos
These can also include a caption that says whatever you would like. They're perfect for any military family.
Two Tattoos Make A Whole
This idea is wonderful. When you stand next to your son, it makes a complete picture.
Sweet Mother And Child Tattoo
This tattoo is sweet and nurturing. That's exactly how we feel about our son's, making this a great mother and son tattoo.
Pinky Promise
Pinky promises are usually a tattoo that people recommend for couples, but these are a big deal in my house. No one in my family has ever broken a pinky promise, so this tattoo instantly looked like a mother and child tattoo to me.
Matching Dot Tattoos
Pick an image that the two of you love, such as the forest, and have it created out of dots for a unique dot tattoo that only the two of you will share.
Because You Are His Guide
As parents, it is our job to guide our children in life. We are their compass, and this tattoo represents that perfectly.
We're All A Piece Of The Puzzle
In a family, we are all puzzle pieces that make up an entire puzzle. You can get puzzle pieces with just your son, or transform this idea into an impressive family tattoo.
Matching Heart Tattoos
If you're looking for a simple yet sweet mother and son tattoo, this one is it.
Believe
These tattoos are both gorgeous flowers with the caption believe written as the stem of them. If you're not a fan, you can come up with your own tattoo from this one. Pick a flower, and a word to use as the stem for a unique tattoo.
Waves And Mountains
If you're looking for an opposite styled tattoo that isn't quite as cliche as day and night, consider getting waves and mountains.
Mother Kissing Baby Tattoo
This is the perfect mother and child tattoo for a mom. It shows that you love your baby, yet the simple lines make it so much sweeter.
Family Sparrow Tattoos
If you're considering getting family tattoos, a sparrow is a great idea. You can start by getting matching tattoos with your son, and then see if the rest of the family wants to jump on board.
Tree Tattoo
You have two options with this tattoo. You can get the exact tattoo on yourself. Another great option is to get it on your right shoulder, and your son can get some of the birds on his left shoulder to form matching tattoos.
Clover Family Tattoos
Celebrate your heritage or wish each other luck with these tattoos. You can get them in black and white, or opt for green. Don't forget that you can always make changes to make a tattoo your own.
Wine Glasses
If both you and your son love wine, consider this tattoo. It not only showcases your favorite hobby but is very inspirational.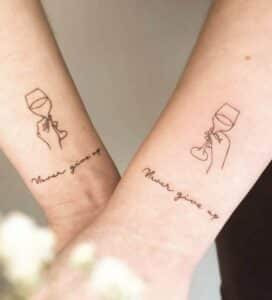 Mother Holding Toddler
This isn't your cliche mother and baby tattoo, and that's one of the things that I love about it. Instead, she holds her son while he snuggles up against her.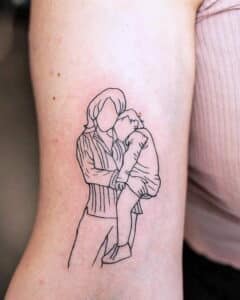 Family Tattoos
The bigger your family is, the more triangles you need. Each person represents a different part of the tattoo.
Butterfly Tattoos
While these are all black and white, you don't have to go that route. It's also traditional for a mom to get a more colorful tattoo while the son gets a black and white tattoo.
Black Roses Tattoo
This is a beautiful, unique take on other tattoos that have a piece of them missing. It's not only gorgeous, but there are not a lot of people that have this tattoo.
Tree Tattoo
This is what the tattoo would look like if it were on two people. You can see how one person also has branches to complete the tattoo. Some mothers choose to get one tree for each of their children as well.
Portrait Tattoos
This is a picture of a person's mother that got tattooed, but you can take this idea and do whatever you would like with it. You can get a portrait tattoo of your son, and he can get one of you.
Penguin Tattoos
These two penguin tattoos are the perfect matching tattoos for a mom and son!
Mother And Son Tattoo Idea
This mother and son tattoo has thicker lines for a gorgeous effect, complete with his name underneath of it. The swirls look like wings, and we all know that our mother is always our angel.
Mother Son Quote Tattoo
The mother gets for them I'll risk it all on her to show that she would do anything for her children. The son or children get because of her I will not fall to symbolize that she is always there supporting them.
Love You Forever Tattoo
This is one of my favorite books to read to my children. If you're familiar with the book, this is a must-get mother and son tattoo.
Heartbeat Tattoo
Our children always help us keep on going, even when times are tough.
Music Note Tattoo
For the music lovers out there. You can pick this music note, or any music note that the two of you are particularly fond of.
Bird And Cage Tattoo
As our children go, we always get ready for them to fly away. Simultaneously, we also make sure that they have a safe place to come home to.
To Show That You'd Fight For Your Son
This tattoo is taken from the one that says for them I'd risk it all. Instead, it says for him, I will fight them all. If you've spent your son's life fighting for him, this is the ideal mother and son tattoo for you guys.
When You're A Little Different
If your family is known for being different, it's always a great idea to celebrate that. Our differences are what make us unique, whether you're the black sheep at family gatherings or just enjoy having plenty of ink on your skin.
Matching Feather And Arrow Tattoos
These two matching tattoos are perfect if you love feathers and arrows. Often, the arrow represents direction, which we always give our children. That makes this a great mother and son tattoo.
Mother And Child Elephant Tattoos
Tattoos like this one are adorable, simple, and sweet. If your son wants a small tattoo and you want something to show your love, this is one of the cutest tattoos that you can get.
Anchor Tattoos
These are used to represent various things. When it pertains to a mother and son tattoo, it's often because we as mothers are their anchor. We keep our children grounded.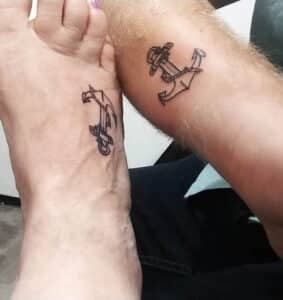 Matching Eye Tattoos
This is also referred to as the evil eye. It's commonly viewed as a sign of protection. We always want to protect our babies, and tattoos like this can help us protect them when we can't be beside them.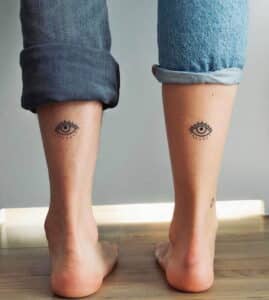 Good Night Tattoos
Some of my fondest memories with my children are at bedtime. We spend all day cramming in homework, dinner and they are at school most of the day. Then, when night comes, we get to cherish those few brief moments of sweetness before settling down to go to bed. If those are some of your fondest memories of parenting, this is a good parent and child tattoo to consider.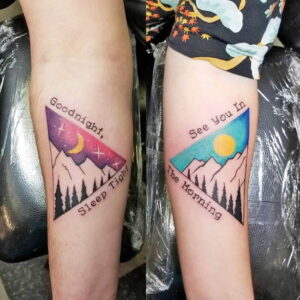 Heartbeat Family Tattoo
This modern take on a classic heartbeat tattoo shows that you care about your family. When you value family above all else, there's no shame in saying it with a tattoo like this. You can also make the heartbeat spell out your son's name.
Simple Bird Tattoos
There is something about the simple lines of this tattoo that makes it both unique and sweet. You can both get tattoos facing the same direction instead of making it look like the birds are kissing.
Tree Stump Tattoos
These two tattoos are the exact same. They are cute, and detailed enough that any tattoo lover will appreciate them.
Pinky Promise And A Caption
This pinky promise tattoo is a promise that the two of you will be there for each other not matter where you are, and no matter what the situation is. Nothing says family quite like this tattoo does.
Matching Bracelets
You can customize this tattoo to say mom inside of the heart instead of a girl's name. Getting them both around your wrists or ankles is another great idea!
Chinese Dragon Tattoos
When you both love Chinese dragons, it just makes sense that you should get matching tattoos of them.
Simple Sun And Moon Tattoos
Sun and moon tattoos are used to represent the sun and moon, as in giving each other the sun and moon. They can also symbolize a love for astrology. Another common reason for these tattoos is when two people are different, just like night and day.
Matching Avocado Tattoos
These are a great mother and son tattoo. They are small yet adorable. It shows that two halves make a whole, in the same way that your son completed your family.
View in gallery
Source: Boredpanda.com
Peanut Butter And Jelly
When you are your son are two peas in a pod, get a tattoo to symbolize that. Let the world know that he's the peanut butter to your jelly. Life simply isn't the same without him.
Eternal Love
There is nothing that can compare to the love of a mother. This tattoo symbolizes that with two hearts together and the eternity symbol in the middle. Typically, the mom would get one that is colored in with color while the son would get a black and white one.