Babies come with a lot of stuff and this is never more apparent than when you attempt to leave the house!
And yes they really do need all that stuff or at least they could potentially need it all if the worst happens, like a diaper blowout or spit-up.
Here are some of the things that you may need in your diaper bag:
diapers
wipes
bottles
a change of clothes
a toy
blanket
pacifier
And who knows what else. It really does depend on where you are going and how long you are going to be out of the house.
So you have gathered everything that you need, but where do you keep all this stuff when you are on the move?
Some parents love the traditional diaper bag, while others prefer a backpack diaper bag and then there are those that just use a regular backpack.
Let's take a look at the pros and cons of these different options.
Short On Time? Here Are The Best Choices for Diaper Bag or Regular Backpack
Prices pulled from the Amazon Product Advertising API on:
The Main Differences Between A Diaper Bag vs A Backpack
The main difference and the most obvious is going to be the way that you carry them and the storage pockets that they provide.
Diaper bags have storage pockets specifically designed to hold the things that you will need for your baby such as diapers, bottles, wipes. While backpacks do come with storage pockets and separate compartments but they are not specifically designed to hold all the baby essentials.
Traditional diaper bags are carried on one shoulder or across your body, while backpacks are worn on your back leaving you hands-free to tend to your baby.
Diaper bags usually come with a wet bag so you can place any soiled clothes in and keep them away from all the other stuff, while you can easily purchase a wet bag to go in your backpack they do not usually come as part of the package.
A Look At Diaper Bags
Diaper bags have been around in some shape or form for generations and have evolved hugely over that time.
But their basic purpose still remains the same and that is to provide parents with a convenient way to carry all their baby essentials while out and about.
Diaper bags come in a huge variety of styles, shapes, and colors. They can be over the shoulder, cross-body, or even a backpack.
Diaper bags tend to have a main compartment for diapers, wipes, and a change of clothes. Then they have a huge variety of different sized pockets for a whole range of items such as pacifiers, bottles, favorite toy, and a blanket.
There are also those diaper bags that come with insulated pouches, laptop pockets, USB charging ports, wipe dispensers and anything else you can think of.
But even with all those bells and whistles, diaper bags have two essential purposes:
To provide a convenient way to carry all your baby essentials.
To be able to access all those essentials quickly and easily.
Diaper bags are great for running quick errands with your baby, for longer days out, or even an overnight stay with friends or relatives.
A huge plus for diaper bags is the vast range of styles and colors that they are available in.
Some diaper bags work as a tote, a purse, a messenger bag, or even a backpack. Being sure that you will find the perfect one for you and your baby.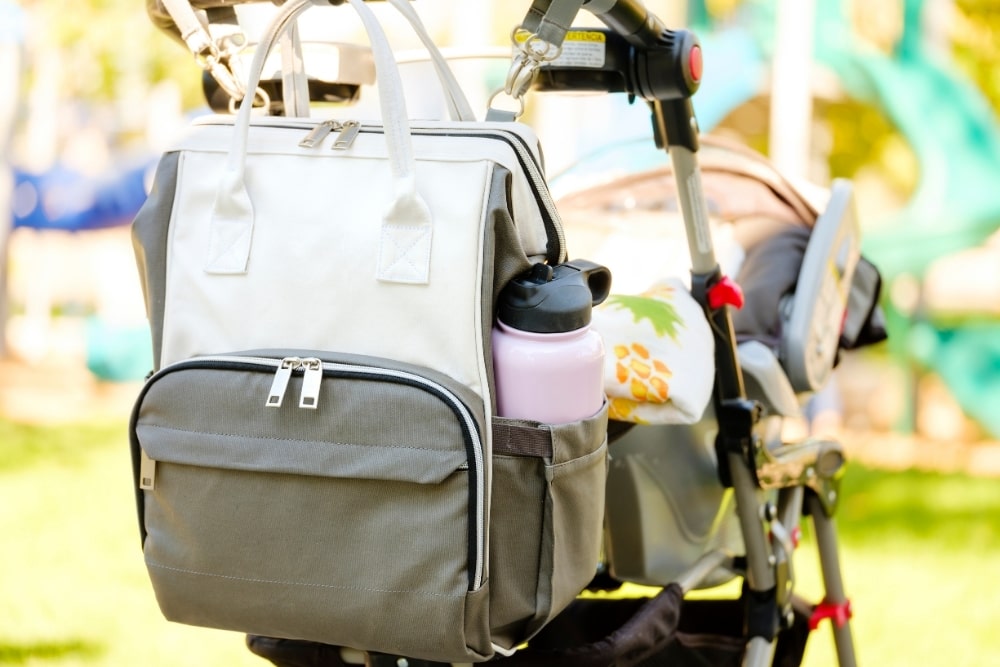 Pros of Diaper Bags
They are super convenient and feature multiple storage compartments that are easily accessible.
Available in a range of styles and colors, meaning they are suitable for both moms and dads.
As diaper bags are specifically designed to hold all the baby essentials that you will need they tend to have a far more intuitive design than a standard bag does. Many come with insulated pouches to keep bottles warm for several hours and some come with easy dispense wipes compartments.
Cons of Diaper Bags
Diaper bags are designed to be carried either over your shoulder or across your body and this can mean that they often get in the way when you are trying to juggle a baby, open your car and manage a squirmy toddler.
Budget-wise, many are not exactly budget-friendly this is mainly due to their specific use and purpose. This is not always the case and you can find more affordable ones on the market.
Our Top Picks
A beautiful leather diaper bag offers style as well as practicality for any mom. It comes with 13 different storage pockets, including 6 outer pockets and 7 inner pockets. It also has 2 insulated pockets perfect for storing bottles and even a 12 inch laptop pocket.
It comes with an adjustable shoulder strap and can be used as a backpack or over the body.
The diaper bag comes with a changing pad and it is available in brown and black.
Pros
Easy to clean
Plenty of storage pockets for all essentials
Adjustable carrying strap.
Can be easily repurposed once the baby is grown up.
Cons
Is heavy and bulky.
Some issues with the smell of the bag.
Check Price
Available in a neutral grey color and has plenty of space for all those essentials. It has a collapsible metal frame design, access to the main compartment is easy and you can find items easily.
It comes with three carrying options, a crossbody diaper bag, a tote bag or even attach it to your suitcase. This makes it a great option for parents who travel frequently or spend long days away from home with their baby.
The RUVALINO diaper bag comes with a cushioned changing mat and is large enough to carry all the baby essentials and yet still be lightweight.
Pros
Collapsible metal frame design.
Three carrying options.
Pacifier pocket.
Insulated bottle holders.
Cons
Stroller straps are sold separately.
Unzipping single-handed is a struggle.
Check Price
A Look At Regular Rucksacks
We all know what a backpack is and its main purpose in life. But let's see if it can work as a diaper bag?
Regular backpacks or laptop backpacks are not specifically designed for use as a diaper bag, but they do have some great features that are perfect for carrying all those baby essentials.
Another plus is that they are comfortable to carry as they are designed to carry things for extended periods of time and they also allow you to keep your hands free. This allows you to easily carry your baby and do other things all at the same time.
Most backpacks do not have specific compartments like a diaper bag does such as the insulated pockets or wipe dispensers. They also will not include a changing mat – but these can easily be added separately.
Personally, I think that backpacks work better once your little one is a bit older, such as a toddler when they need less stuff. When all you need for a day out is plenty of food, wipes, diapers, and possibly a change of clothes.
Regular backpacks are available in a huge range of designs and colors. But they do tend to only have one style as their purpose is to be able to be carried on your back.
They can range from very inexpensive to astronomically expensive depending on which you purchase. There is a chance that you may already have a backpack hanging around your home that you could use.
Pros of Regular Backpacks
The biggest advantage of a backpack is that it allows you to be hands-free, so you can get on and do whatever it is that you need to do.
You can purchase a backpack at a budget-friendly price depending on if you are looking for a designer brand or not.
Due to their design, they also allow you to spread the weight you are carrying evenly, easing the strain on your back and shoulders.
Cons of Regular Backpacks
Although they have multiple compartments and pockets they are not specifically designed to carry baby essentials so will not include things like insulating pockets, wipe dispensing pockets, or changing pads.
Our Top Picks
This laptop backpack can fit a 17 inch laptop or notebook computer. It has a simple, classic black design and has been designed to ensure the safety of your laptop while you are out and about.
This is a great option if you are a working parent, it's multifunctional, and has a 1-year warranty.
It could easily be converted into a handy diaper bag, allowing you to carry all your baby essentials. It comes with some great compartments for your laptop, keys, phone, and pens and it has an additional tablet pouch.
Pros
Fully adjustable and padded shoulder straps.
Padded laptop pocket.
Variety of different compartments.
Multifunctional uses.
Cons
Quite bulky.
Waterproofing isn't great.
Check Price
This backpack is suitable for a laptop up to 15.6 inches. It comes ina range of different colors. The backpack also comes with an external USB charging port and cable allowing you to charge your electronics while on the go.
It has six compartments enabling you to organize and store all your essentials easily. Along with a well-padded backpack strap, that is adjustable to ensure the best fit for everyone.
Pros
USB charging port.
Six compartments for easy storage.
Very durable material.
Good size and not too bulky.
Cons
Cushioning on the straps is quite thin.
The magnetic clasps on the front are not very durable.
Check Price
How To Choose The Right Bag For Your Needs
There are a few things that you need to consider when picking the best diaper bag from the different options available. You could start by asking yourself the following questions:
Do you prefer an over-the-shoulder carrying style or rather have your hands free?
How much space do you have in your car, on your stroller?
How many children are you carrying essentials for?
How much stuff do you need to carry?
Does the bag need to be multipurpose? Will you be carrying a laptop with you as well as baby essentials?
What is your budget?
Once you have the answers to these questions you will have more of an idea of what type of diaper bag you are going to be looking for.
Alternative Options
Prices pulled from the Amazon Product Advertising API on:
FAQ
Can I use a backpack as a diaper bag?
There is no reason that you can't use a regular backpack as a diaper bag but you must remember that they are not specifically designed for this purpose.
With this in mind, they may not offer options such as insulated pockets and such a large variety of compartments.
They often have roomy compartments for storage and this is what makes them a viable option. Along with the fact that they are super comfortable to carry and allow you to have your hands free.
Do I really need a diaper bag?
In my experience as a mom of 5 children, the answer is most definitely yes! Every parent is going to need some sort of diaper bag at least for the first few years of their baby's life. They are just so convenient and everything is in one place, wipes, diapers, clothes, etc.
Are backpack diaper bags better?
Both a backpack diaper bag and a traditional diaper bag provide lots of space and compartments.
If you are a parent that likes organization then the traditional diaper bag is better, but the backpack-type has come a long way with regard to the organization.
Many now come with a quick and easy access pocket for wipes and diapers, as well as easy to clean changing pad.
The Final Thought
The biggest difference between diaper bags and regular backpacks is their design and organization.
You can expect diaper bags to be geared towards providing all the essential compartments needed to store your baby's stuff. They come with insulated pockets, wipe dispensing pockets, and changing pad.
While backpacks will have a few different compartments but nothing specific to babies and they are usually one big empty space meaning it is often difficult to find things.
Personally, I would choose a diaper bag as in the long run it will make your life as a busy parent so much easier. Everything is organized and easily accessible!